The 4th Annual Northeast USA Rice Conference
The 4th annual conference was held at Akaogi Farm in Westminster West, Vermont on Saturday, August 3rd, 2013. The conference focused on saving rice seed and small-scale rice processing equipment.
"Conference Looks at Growing Rice in Northeast" Lancaster Farming + Read Article
Video presentations + View Videos

About Us
Since 1985, Linda and Takeshi Akaogi have been farming organically in Westminster West, Vermont on the Earthbridge Community Land Trust. Over the years, they have planned their ten acre farm to use the landscape and grow fruits and vegetables sustainably. Throughout the farm there are wet areas unsuitable for traditional agriculture. Growing rice in these marginal lands seemed to be a possible solution. With this idea, the Akaogis focused their efforts to research the potential for growing paddy rice sustainably and productively on their farm.
+ Learn More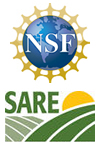 This effort is currently funded by the National Science Foundation. In 2008 and 2009, funding was provided by a Northeast Sustainable Agriculture Research and Education (SARE) Grant.